Millennium Murals is a full service studio. In addition to the custom ceiling tiles, we can develop related designs for any conceivable purpose. For example, we can create a border graphic to accent ceiling lines, chair rails, doors, windows, and other architectural features.
This rendering was generated in the computer to depict how a reception area might be transformed.
The best thing about this kind of rendition is that it allows clients to preview the proposed work before it is in place.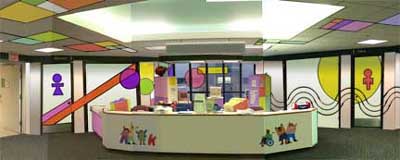 Let us design an entire space for you.