Custom Ceiling Graphics
for anywhere!
Hospitals, businesses, exam rooms, dental offices...
The sky's the limit!
Individually designed graphics for use with most standard 2' x 2' or 2' x 4' ceiling panels. New construction or existing, we will work with your ceiling product to create the perfect environment for you.
Calm, sooth, entertain, inform
All Images in the Catalog can become backlit ceiling panels, too!
Our vinyl product is durable, washable, and can be made fire retardant.
Call Millennium Murals toll free at 1-866-881-8509
What do your clients see when they look up?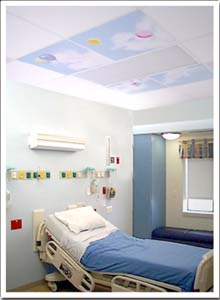 Brighten their view!